Sponsor Body Armor for our MagenAm Teams.

Rated to defend against Rifle and Armor Piercing rounds.
When you call on MagenAm, you are calling on our members lives.
MagenAm Team Members run to the sound of gunfire (not from it) to save innocent lives.
Our teams defend our shuls and institutions and respond to our contracted neighborhood homes – on a completely volunteer basis.
When faced with armed criminals body Armor is a potentially life saving gift.
Safe life defense is committed to protecting lives and to that end, they are working with us generously to provide top quality Armor at very discounted prices.
Please note this price is available as a donation only – and not to the consumer market. All vests purchased on this page are exclusively for our volunteer MagenAm Members.
See the Vest on Safe life Defense Website
TACTICAL ENHANCED MULTI-THREAT VEST LEVEL IIIA+
See the plates on Safe life Defense website
FEATURES

Bullet, strike, slash, stab and special threat rated!
Special threat resistant: Liberty Civil Defense 9mm & FN 5.7×28
Spike/Stab Rating: NIJ Level 1 up to 36 Joules of force
Constructed with custom para-armaid
2 expanded low profile plate pockets for optional level IV hard plates
Tactical Comfort Side straps include low profile pockets for additional armor
Traditional Front and rear molle webbing in addition to laser cut molle velcro
Rear drag/rescue handle with optional name tag
Front and rear ID patches included with optional custom name tag
6 Point adjustable with 2 tactical comfort straps
Water resistant nylon construction
Cooling mesh liner
Engineered for comfort and maneuverability.

Level IIIA+ PROTECTION
Safe Life Defense iiia+ armor reliably defends against: Liberty Civil Defense 9mm armor piercing ammunition and FN 5.7×28 40gr as well as common handgun rounds including .357, 9mm, 45acp, up to .44 magnum. Level iiia+ armor provides additional protection against shotgun rounds including 00 buckshot, 12 ga slugs and even high velocity submachine gun rounds. Level iiia+ is spike rated NIJ level 1 for protection up to 36 joules of stab force.  In conjunction with our level 4 rifle plate our armor protects against rifle threats all the way up to .30-06.

DRAG/RESCUE HANDLE WITH CUSTOMIZABLE NAME TAG
Highly durable and functional, the Safe Life Defense drag handle provides peace of mind and fast personal identification.  The rear name tag is customizable and removable. Sleek and low-profile, the drag handle system is self secured with Velcro.

TRIPLE LAYER MESH SHOULDER STRAPS
Extra wide, triple layer, mesh shoulder straps provide comfort under the heaviest of loadouts

EXPANDED LOW PROFILE RIFLE PLATE POCKETS
Highly adaptable in any situation, the Safe Life Defense Tactical Carrier features two low profile plate pockets. Slide rifle plates into your armor system within seconds, all without ever taking off your vest! Our ICW Level IV plates perfectly enhance the protection of this tactical system.
MODULAR ARMOR SYSTEM
Safe Life Defense products are interchangeable.  All accessories, panels, plates, and carriers are compatible (in the same size).
RATED #1 IN COMFORT BASED ON CUSTOMER REVIEW
Safe Life Defense armor is rated #1 in comfort based on customer review! Our panels are cut to accommodate a wide variety of sizes and our extremely comfortable self-structured panels are exclusive to Safe Life Defense. We provide the custom fit without the custom price tag!
FULLY-LOADED UPGRADE OPTIONS! COMING SOON!
Optional Side Armor Panels and unreleased accessories and add-ons!
SAFE LIFE DEFENSE WARRANTIES & GUARANTEES
FIT GUARANTEE
Safe Life Defense guarantees the proper fit of your body armor.  If you feel your vest does not fit properly send us photos and we will exchange your vest, for the proper size, at no cost to you.  Exchanges must be within 30 days of delivery and in original condition.
INCIDENT GUARANTEE
Safe Life Defense stands behind our products and your personal protection. In the unfortunate event that you are shot while wearing your vest, we will replace it at no cost as long as a police report is provided during your 5 year warranty.
WARRANTY
5 Year manufacturer warranty on all ballistic panels and plates.
2 Year warranty on all carriers.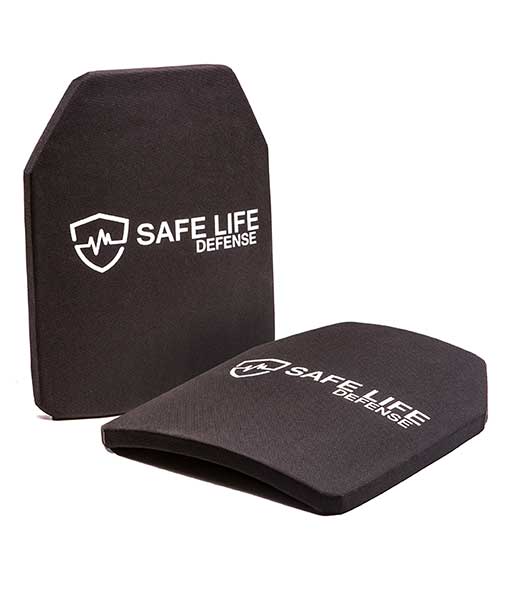 Upgrade your level iiia or iiia+ vest with our ICW (in conjunction with) Rifle Plates. Slide them into the outer pockets on any of our Tactical, First Response, or Concealed carriers for quick rifle protection. Capable of taking multiple hits, these mosaic tile, 5.8lbs plates stop up to 30-06 steel-core armor penetrating rounds!
10×12 Rifle Plates are for Safe Life Defense vest sizes XS and larger.
8″X10″ Plates for Safe Life Defense vest sizes 2XS and smaller.
Order a 2 Pack of two rifle plates if you want front and back protection.
FEATURES
Level IV when used with a level iiia Safe Life Defense vest
Constructed with Al203 + Ultra High Molecular Weight Polyethylene
Shooters cut for increased movement
Durable and water resistant polyester casing
Anti spall
Curved for close comfort
Thickness 18mm
Weight 5.8 lbs
Dimensions: 10″x12″ w shooters cut
WARRANTY 
5 Year manufacturer warranty on all ballistic panels and plates.
2 Year warranty on all carriers.